---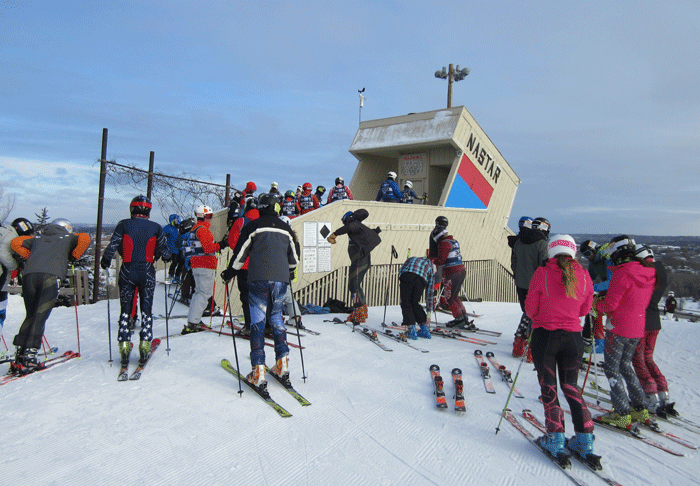 Regular season leagues start in January and run for seven consecutive weeks.  Races usually  take and hour to an hour and a half.  Awards follow about 10 to 15 minutes after race completion.
Click on the link below for specific league information and league descriptions:
---
*BONUS LEAGUES
Each participant gets to take FOUR total runs in the race.  Only the best time in each run will be used to determine handicaps.
The following are considered bonus leagues for the 2018-19 season*:
BHPRET (3 runs total)
BHPREWD
WMPREW –

Cancelled due to lack of registrations



WMSUNA
WMSUNP
WMWED
WMFRI
BHFRI DAY
BHSUNP
* May Change back to a "normal" league if league gets too big
---
T-SHIRTS
Only Men's size T-shirts will be available for the 2017-18 season.  After trying to provide women's sizing to our participants the past two years, we have found that ladies' T-shirts vary a lot in sizing from year to year making it difficult for members to get the proper size.
We will be sticking with the same style of men's T-shirt we got last year.  To see brand specifics, you can CLICK HERE.
Please note, if you have a women's size T-shirt noted on your information from last year, you will need to change that when you register.  If you do not change it prior to November 1, we will change it for you by guessing at what size you want.
---
End of Season Awards
TEAM CHAMPIONS
The winning team of each league is determined by adding up the points earned each week by the top six racers. If there is a tie, we go to the total of 7 racers, then 8 and so on.
Medals will be given to the top three teams.
FASTEST OF THE LEAGUE
The fastest of the league is determined by averaging all handicaps for the entire season. Medals will be given to the top three winners and ribbons to 4th and 5th in the female, male, girl and boy category. Kids and adults will not be separated out in our All Age leagues. Kids and adults will be separated out in the Adult + Kids leagues. You must have participated in at least four regular season races in your particular league in order to qualify for this award.
MOST IMPROVED OF THE LEAGUE
This is determined by looking at overall improvement throughout the season. We look at both dropping handicap points throughout the season and also consistently getting better or going down each week.
You must have participated in at least four regular season races in your particular league in order to qualify for this award.
MOST VALUABLE OF THE SEASON
This is based on medal average (usually getting a Platinum), how much you get your medal by (based on age and gender), and attendance.  This award is not given to Adults and Kids separately.  There is only one Most Valuable of each league and can be either and Adult or Kid in the All Age and Adult + Kid leagues.
TEAM AWARDS
FASTEST – Fastest on your team based on rated handicap (drop your best and worse and average remaining out).
MOST IMPROVED – Most improved person on your team.
Certificates will be given to all winners.
End of year awards are given at Race #7. Please allow for a little more time between the completion of the race and the award ceremonies. Our staff will try and get the awards ready as quickly as possible.