The Ski Challenge puts on many events throughout the race season.  League Events run in January and February.  Various Open Races will be held throughout the season.  A Championship Weekend of racing will be held the first weekend in March.
---
LEAGUE INFORMATION
Regular season leagues start in January and run for seven consecutive weeks.  Races usually take and hour to an hour and a half.  Ski Challenge offers seven leagues at Buck Hill.
Buck Hill Leagues:  Sunday AM, Sunday PM, Monday PM, Tuesday PM, Wednesday DAY, Wednesday PM, Thursday PM
Click on the link to see a complete league schedule with start dates and race times.
LEAGUE SCHEDULE
REGULAR SEASON - (Starting In January - 2024)

CASH/CHECK
(CREDIT CARD)
DEADLINE
Regular Season - Early Pay
$165
$165 + CC FEE
Oct 31
Regular Season - After Oct 31
$175
$175 + CC FEE
After Oct 31 and at
1st race participating In
League Descriptions
Adult (teen) Leagues (13+) – League Description

For Adults and teens.  Ages 13 and over.  Younger kids are welcome to Guest Race if accompanied with a parent and follow our Guest Racing Policies.
Leagues:  Buck Hill Monday, Tuesday, Wednesday DAY, Wednesday PM, Thursday
Please note that these leagues are focused around adults and if you choose to sign your teen up to participate with you, we cannot guarantee that the atmosphere at awards will always be appropriate for kids.
All Age Leagues (All Ages) – League Description
For ages 4 and over. All ages are welcome to join teams, however, kids and adults will NOT be separated out for individual awards such as Fastest, Fast, Most Improved.  Teams will be be ranked together for standings.  Parents are NOT required to race.  These leagues may consist of more adults than kids.  If you are looking for leagues with more kids please see our ADULT + KIDS LEAGUES.
Leagues:  Buck Hill Sunday PM League
End of Year League Awards – Kids and Adults will be ranked separately for Fastest of the League and Most Improved of the League. Most Valuable of the League will be given out to one racer and can be either an Adult or Kid.
If an All Age League ends up with more than 10 girls and 10 boys under 18 years of age participating, it will be converted to an Adult + Kids League where individual awards are separated out.
FAMILY LEAGUE – Adult + Kids (4+) – League Description

PLEASE NOTE – In order for an All Age league to be considered an "Adult + Kids" league, we need at least 10 girls and 10 boys under the age of 18 participating.
Teams can consist of all adults, all kids, or mixed. 18 Year old and up are considered adults. 17 and under are considered kids. Separate awards for Fastest, Fast and Most Improved will be given to adults and kids. Teams will be be ranked together for league standings.
End of Year League Awards* – Separate Fastest of the League and Most Improved of the League for Adults and Kids. Most Valuable of the League will be given out to one racer and can be either and Adult or Kid. (*There are no end of year individual league awards for preseason leagues)
Parents are allowed to race out of turn if they need to help their little ones. Parents are allowed to guide young, inexperienced racers through the course. Check with the Ski Challenge Staff for specifics. Younger or inexperienced racers are welcome to start at the bottom of the start ramp. Parents are not required to race, but are strongly encouraged to attend the race. Ski Challenge will have one staff member at the top of the hill getting racers in order and instructing on how to participate in the race. Ski Challenge does not have the staffing to assist racers on the chair lift.
Younger, less experienced racers are allowed to slowly snow plow through the course during inspection and may also try the ramp during inspection upon Race Crew approval. More experienced racers are asked to follow the Ski Challenge inspection rules.
Leagues:  Buck Hill Sunday AM
*BONUS LEAGUES
Each participant gets to take extra runs (3 or 4 total) in the race.  Only the best time in each run will be used to determine handicaps.  The following are considered bonus leagues for the 2023-24 season*:  Buck Hill Sunday PM,  Buck Hill Monday (3 RUNS TOTAL)  * May Change back to a "normal" league if the league gets too big.
---
NASTAR OPEN RACES
Saturdays in 2024
January 6, 20, 27, February 3, 10, 17
5:30-6:30 pm – Check in and pick up bib number at table in TBD
6:30 – Inspection
7-8:30 pm – NASTAR Timed Race
Two GS courses will be set.
$20 (does not include lift ticket)
Scores will be posted immediately following races
When you are done racing, you can place your bib in the bin at the bottom of the race run.
See who is attending
Updated:
REGISTER HERE FOR NASTAR
RACE RESULTS
---
CLINICS AND PRACTICES
Buck Hill
Skier Type: All Ages and Abilities
Dates: Starting TBD
Times: 10:15 AM – 12:00 PM
Course Run:  Crossroads
Fee:  $30 per day
Starting TBD
7-8:30 pm
$35
Friday Race Clinic at Championships at Giants Ridge
March 1, 2024
11 am – 1 pm
Giants Ridge
$20 (Does not include lift ticket)
MORE INFO
---
TRY-IT FOR FREE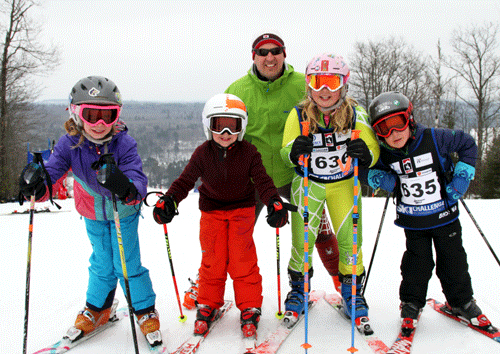 If you would like to try out Ski Challenge before signing up for a race series, you can participate as a guest racer.
Guests are invited to race at any Ski Challenge race. If you are new to Ski Challenge, you can try it for free the first time.  PLEASE NOTE, FREE TRY ITS ARE FOR GUESTS WHO HAVE NEVER RACED BEFORE.  If you have guest raced before or have been part of a Ski Challenge League, or are a seasoned racer,you need to sign up as a guest and pay $15.  (No Try-its for the Open NASTAR nights)

Find the Try-It Registration form here:  TRY-IT
** Lift tickets must be purchased.
---
GUEST RACING
You are allowed to guest race two times per regular season race league. The fee is $15 each time.  We recommend that all guests register and pay online at least TWO hours prior to course inspection.  If you are unable to do this, show up at the hill and pay and sign up there.  Follow this link to register:  GUEST REGISTRATION  .  You must join a league if you plan on guest racing more than twice in a particular league.
On the day of your guest race, check in at the registration table up to an hour prior to inspection.  You will get a temporary bib for the race.  You can race anywhere in the order.
---
CHAMPIONSHIPS
Friday – Sunday, March 1-3, 2024 -Giants Ridge
Championships weekend at Giants Ridge is a fun-filled weekend with a lot of racing!  Teams are divided into divisions with teams of similar abilities.  There are also additional team and individual races that everyone can participate in, including non-Ski Challenge members!  The weekend is finished up with a Sunday Fun-day race day put on by the Midwest Masters.  Follow this link for more information:
Championships Information
---
RACE CAMP AT JACKSON HOLE
Thursday, Friday, and Saturday, December 7, 8, 9, 2023
Join us for a great way to kick off your race season!  This Camp is designed for all abilities. You do not need to be a seasoned racer. Coaches help each participant work toward individual goals.
The camp includes:
3-days of comprehensive coaching and training
2-hours per day will be spent in the gates
Coaching will be from 9 am – 3 pm each day.
Video Analysis on Thursday and Saturday of Camp
Price DOES NOT Include Lift Ticket
Price may go down if more than 15 register
Racers must be able to ski on Blue runs and possibly blue/black runs. All runs will be groomed.  Participants will have the option to explore the entire mountain (whatever is open at the time) with coaches on the last afternoon of the camp.
Cost: $835* per camp participant (This is based on 15 participants.  This price will go down if we get more participants.)
A Deposit of $400 is required by October 15.
The remaining balance will be invoiced and collected between November 1 and November 15.
*Price does not include lift tickets.  You can get discounted lift tickets by getting the Jackson Hole Golden Ticket.  LIFT TICKET INFO
Go here to Register and Pay:  REGISTRATION
More Camp Info
---
Thank you Platinum Sponsors!