TOP SECRET

CODED


NOT REALLY
PROCEED ON

By:  Paul Burrows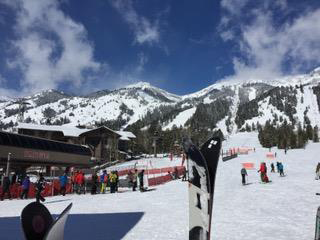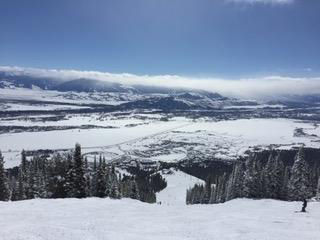 Barb and Dave have arranged another very positive program. This one just happens to be in Jackson Hole. YAHOO!
I have noticed the JH logo and words race camp in the Ski Challenge news letters for a long time. I finally got around to going last year. I wish I had not waited so long.
The instruction is provided by the JH Ski School. They do a great job along with the rest of the mountain staff. Here's what you'll find. If Nature has not cooperated they make snow so there is good cover on a lot of the runs. I do not know how the group came out last season, but I had no damage to my skis. There is a dedicated support crew that takes care of the courses, same for the video.
During the day you will mix drills with gates. The drills for my group took us on a tour of the open runs. We were not kept in just one place. The course was the only thing kept in the same place. It was on Werner just off the Apres Vous chair. This schedule pretty much takes up the first two days. The morning of the third day is a NASTAR race, pacesetter and all. It's then on to lunch. Continued training was offered after lunch, but I was pretty much raced out and just wanted to free ski, as many years had passed since I was last out to Jackson Hole.
The lodging is fun. It's a Bavarian Hotel, Gasthaus, and Beirstube that is lightly Americanized all rolled into one. The lodging prices are very respectable (good show Barb), and the location cannot be beat. Its out the door, two rights followed by about 30-40 steps and you are at the Ski School and the base the lifts. No complaints here!
To get out to Jackson some of us drove, and the rest flew. With the timing of the program it's not peak season and I am guessing the airline prices are a bit more agreeable than later in the winter.  We were given the gift of three bluebird days, but to be honest even if it had been overcast, snowing, or both, it still would have been a good time.
My currently non-skiing wife also attended, found more than enough to do and had a great time.  Hats off to Barb and Dave for putting a great one together, sehr gut!
This is just my version of the time out in Jackson Hole last December. For the fine points you need to read the material Barb has placed in the Ski Challenge news letter.
Great Mountain,
Great Folks,
Excellent Adventure!
Paul Burrows
Buck Hill, Wednesday Afternoons